Welcome To Our Company!
In the year 1998, our company, Kansara Bell Metal, was established and in today's time it is recognized amongst the most trustworthy manufacturers and exporters in its domains. We deal in a wide spectrum of Bronze kitchen Utensils, Dinner Sets, Metal Bells and allied products and can assure that the quality of our bronze kitchenware and allied products is of the expected standards. In the past nineteen years our company has grown in terms of reputation, profits, employees, production capacity and all other aspects as we are dedicated to be on the top-most ladder of success.
We owe the entire success of our organization on a whole to our dynamic manpower as they have never let any factor affect the quality of our products and productivity. From learning the use of modern machines on a faster rate to finishing urgent and bulk assignments within the stipulated time-frame our team has done everything for the company's success. Our team is not just an asset for our organization but our pillars of strength.
Our Future Plans
Ever since our inception, we have been dealing in the best quality kitchenware, utensils and allied products but in future we wish to expand our business. Currently, we have our distribution network only till Indian market but in later years we wish to start with export business as well. With that our prime agenda is to bring forth more new products into the products such as handicraft items, jewelry, musical and pooja items and many other. Despite, our wide future business plans we are committed to never risk on quality and henceforth, our customers will always get the best variety.
Our Logistics Support
Other than providing facilities to our manufacturing team like a spacious factory, high tech machines and abundant resources we also ensure that our team has proper facilities to conduct other work operations like testing, packaging, storing and transportation. Our logistics department execute its work from packaging till products transportation in a streamlined manner and makes sure that:
The goods are delivered on time to the customers
Products quality is not damaged during delivering
Complete assistance is given to customers about their consignments location
Products remain safe from theft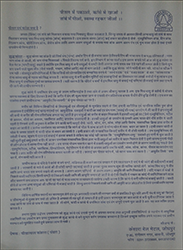 Read More